Interlic News Agency - http://www.interlic.md

TO RECEIVE NEXT TRANCHES THE RM IS TO FULFILL ALL THE IMF CONDITIONS
Chisinau, March 20, INTERLIC. The Republic of Moldova has to fulfill all three IMF conditions to receive next 2 tranches of the credit amounting to $25m in the frames of
Poverty Reduction and Growth Facility. As INTERLIC News agency reports, IMF
Mission Head Marta Castello Branco has declared it at her meeting with RM Premier
Vasile Tarlev.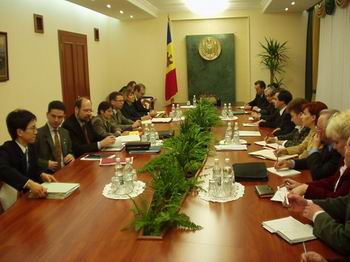 She has expressed hope that the RM will pass the Bill on the Pre-shipment
Inspection, which will envisage only one company, in the final reading.

Besides, according to her, she has the information that the RM authorities are
not going to remove all impediments to the export, as agreed. The RM customs
officers impede the export of the seeds of sunflower, wheat, claiming that these products should be traded at the Moldovan Commodity Exchange.

She has underscored the need to re-consider the Budget-2003 Law to bring it in
line with the parameters, agreed with the IMF. The matter is of the budget
deficit in the amount of 200 million lei. The IMF experts are preoccupied with
the planned increment of the salaries of the budget employees and the
expenditures for the administrative territorial reform.


Marta Castello Branco has underlined that the RM must fulfil all the conditions by May to present the respective documents for the sitting of the IMF Board of Directors in order release the tranches in June.

RM Premier Vasile Tarlev has confirmed the government's intention to cooperate
with the IMF in a constructive way. He has called upon the IMF experts to be more
flexible and help the government in solving problems. He has noted, when the
Pre-shipment Program was suspended, the deduction of the Customs Department were
increased by 30%. In his opinion, the sides have to find a compromise.