IMF MISSION REACHED A PRELIMINARY AGREEMENT WITH THE GOVERNMENT, BUT THERE ARE STILL MANY ISSUES TO BE RESOLVED
For the financing to be resumed, the Moldovan Government before July 21 has to resolve a all of the agreed upon prior actions, told Marta de Castello-Branco Chief of IMF mission, Europe II adviser to news conference.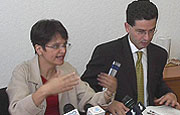 Marta de Castello-Branco has stated that the IMF mission has reached a preliminary agreement with the Government concerning implementation of program agreed upon with IMF, although there are still many issues to be resolved prior to resuming external financing. A list of conditions stipulated by the IMF representative includes removing export barriers, revising State and Social Insurance budgets, implementing pre-shipment inspection, creating favorable business environment, ceasing state interference into small and medium scale business as well as creating more favorable investment conditions.
International community is closely following concrete steps taken by the Government, which needs to actually prove that foreign investors are welcome to Moldova, highlighted Marta de Castello-Branco.
Chief of IMF mission was surprised with a number of actions attempted by the Government, especially by adoption of certain decisions that have no financial coverage, among which Law of veterans, increase of pensions by 50 lei, etc.
The Government promotes certain reforms requiring additional expenditures of which neither IMF nor WB are aware. Such an approach affects programs agreed upon with the international financial organizations, said IMF official.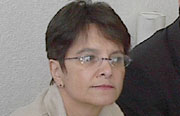 At closing the press conference Marta de Castello-Branco has stated that if all the conditions agreed with IMF will be accomplished then in September, the IMF Executive Board will approve a tranche worth around $ 15 million as part of Sustainable Growth and Poverty Reduction Program agreed by IMF and Government in 1999. The overall value of the program is SDR 110,88 million ($ 147 million), out of which disbursed were only three tranches about $ 12,5 million each. In case of reaching an agreement with Chisinau, IMF will extend the current program implementation, which expired in December 2003 for another year. Otherwise it will take to negotiate a new program between Moldova and IMF.

THE REPUBLIC OF MOLDOVA NEEDS TO MAKE UP ITS MIND ON WHICH WAY TO GO
Recent developments in Moldova show a tendency towards planned economy, says Marta de Castello-Branco, Europe II Department adviser, concluding her 2-weeks visit to Chisinau.
"The key issue remains structural reform and which way Moldova wants to go: forward to market economy or back to planned economy. Many of recently taken decisions are in the spirit of planned economy", said IMF Mission Chief.
In response to mass-media's request Marta de Castello-Branco has expressed her concern vis-à-vis administrative-territorial reform implying return to former Soviet style districts and assessed this decision taken by the Chisinau authorities as a purely political decision and also "one step backwards".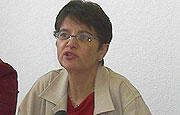 "I am concerned that returning back to districts will deteriorate the quality of services rendered, while local authorities will become fully dependent on central ones. Therefore I have suggested that the Government shall examine relations between these two structures", highlighted IMF official. She has also stated that in making administrative-territorial reform, the Executive power will have to choose between poor efficiency and considerable costs.
It is worthy to notice that when referring to resuming external financing to Moldova, Marta de Castello-Branco has stated that this is the last chance to finalize Fund program with the Republic of Moldova, which started in December 2000, provided the Government will meet all the conditions agreed upon with IMF.

MISSION HEAD BELIEVES THAT REMITTANCES FROM ABROAD HAVE A RATHER POSITIVE ECONOMIC IMPACT
Mission Chief Marta de Castello-Branco, Europe II Department adviser has highlighted that cash remitted from persons working abroad produces a beneficiary impact onto economy.
Mission Chief has estimated with some approximation that annual remittances to Moldova through Western Union amount to $ 500 million.
"Of course, the total value of transactions is much higher since many of those working abroad have their own ways of bringing in the currency", said IMF official. According to Marta de Castello-Branco cash remittances from abroad have contributed to exchange rate stability, growth of imports (especially consumer goods) and financing construction works in the Republic of Moldova.
During a press conference held on closure of 2-weeks mission visit to Chisinau, Marta de Castello-Branco has stated that IMF has revised forecast of macroeconomic indicators. As a result projection of GDP growth and inflation was revised to increase GDP growth rate up to 6% and inflation rate up to 8%. According to IMF representative the latter will depend on the size of deflation expected in summer of the current year. IMF has taken into account this year's crisis in the agricultural sector, which will trigger increase of prices onto farm products this fall, although agricultural sector of Moldova is repeatedly subject to unfavorable climatic conditions. A solution can be found through economic growth in the neighboring countries – Russia and Ukraine, the key economic partners of RM, which can thus procure more from Moldovan businesses, said in continuation Marta de Castello-Branco.
Referring to PM Tarlev's request to extend "more extensive" financing of the Republic of Moldova, the IMF official has stated that the countries can benefit on financing from the institution which they represent depending on their share of participation with the Fund.