Official
03805- Premier upbeat on fulfilment of Moldova's commitments towards International Monetary Fund
Chisinau, 28 April /MOLDPRES/ - Prime Minister Vlad Filat today met the Mission of the International Monetary Fund (IMF) headed by Nikolay Gueorguiev, the government's press service has said.
From 28 April to 13 May, the mission will carry out the first assessment of the IMF Program for Moldova and will hold consultations in line with Article IV of the IMF Articles of Agreement.
<![if !vml]>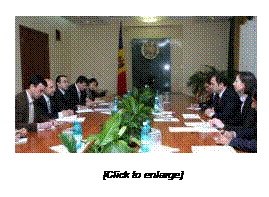 <![endif]>
Nikolay Gueorguiev said that the mission will analyze the recent economic evolutions and progress in the implementation of the program, will update its macroeconomic forecasts and will discuss further macroeconomic and structural policies with the authorities.
Gueorguiev also said that the IMF experts will visit the Transnistrian region in order to get to know better the economic situation there.
Filat said that Moldova fulfilled the commitments undertaken towards the IMF to a large extent and would continue to implement them with responsibility.
"We are open to discussions and we are ready for dialogue as often as it will be necessary in order to find the best formulas for Moldova and its citizens," Filat said.
At the end of the visit, Nikolay Gueorguiev and Vlad Filat will give a news conference.