Press Service of the Government of the Republic of Moldova:
Press release - 27.04.2011

Prime Minister Vlad Filat met with the mission of the European Department of the International Monetary Fund, headed by Nikolay Gueorguiev

The IMF mission is on a visit to Moldova during 27 April-12 May.
Vlad Filat welcomed the IMF delegation to Chisinau and expressed hope that this time, it will carry out comprehensive activities. The prime minister noted that the Moldovan government had done its utmost to fulfill the assumed commitments and would further take steps in this respect.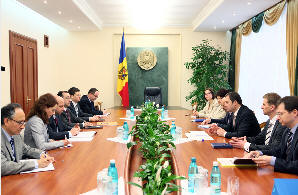 "Although we faced difficulties, given the domestic political situation, the government implemented the necessary reforms and will further take efforts to achieve a significant growth, to create a business-friendly environment and to secure proper social protection for less well-off people," Filat said.
The prime minister expressed his willingness and openness to provide all the necessary support so that the activity of the IMF mission in Moldova be fruitful.
For his part, Nikolay Gueorguiev congratulated the Moldovan government on the achievements made in the past year, as well as on the first results in 2011. The head of the IMF mission said that Moldova continues to show good results in the first quarter of 2011 as well. He welcomed the decreasing inflation rate and the lower deficit of the current account of the payment sheet.
Gueorguiev noted that in terms of the economic development pace, Moldova has outstripped not only Eastern European states, but some EU member-countries too. The head of the IMF mission also praised the way in which the reforms seen in the government's action programme "European Integration: Freedom, Democracy, Welfare 2011-2014" are being implemented.
Referring to the visit's goal, Gueorguiev said that the IMF delegation will meet Moldovan authorities in the context of the third assessment of the programme implemented by Moldova with the IMF support via the Extended Credit Facility (ECF) and the Extended Financing Facility (EFF).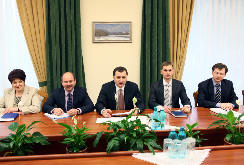 The mission will analyze the recent economic developments and the achievements in the implementation of the IMF programme, will update and assess the macro economic prospects and will discuss with authorities the mid-term spending sheet and fiscal policy plans, as well as other macro economic and structural policies meant to back the macro economic stability and to promote a sustainable economic growth in the next period.
Moldova's three-year programme with the IMF was approved on 29 January 2010. The programme envisages a loan of 369.6 million Special Drawing Rights (SDR) (equivalent to 587 million dollars), of which 170 million SDR (equivalent to 259 million dollars) had already been disbursed. The next installment of 50 million SDR (equivalent to 79 million dollars) is to be transferred when the third assessment report is completed.
Larger photo: click